Diwali, the festival of lights, illuminates the heart with joy and spreads the light of happiness all around! The joy of Diwali rituals lighting diyas, bursting crackers, new attire, sweets and gifting increases ten fold when celebrated with friends & family. And hey, don't forget the Melas which bring the community together as one big, happy family!
EventsHigh celebrates the season and brings you the best of Diwali events in Bangalore, from shopping to music to spirituality– May the light shine bright!
Music
Mirchi Live with Mika Singh This Diwali, have a blast at Mirchi Live with Mika Singh! Expect entertainment, fun and more fun. Catch the dynamic singer scorch up the stage with his scintillating performance only at Mirchi Live! Forget all 'phatakas' and 'phuljadis', the night sky is going to reverberate with smashing hits of Mika Singh!
Fri, 6 Nov 2015
7:00 PM
Phoenix MarketCity
SATURDAY DISCO DIWALI "A Pre-Diwali Bash" @SALT ELECTRA Expect a Truly Power Packed Night with all your Fave Ol' Tunes and Some New ones too – Bollywood/Commercial/EDM.
Sat, 7 Nov 2015
7:00 PM
Salt Electra
Pre Diwali Bash + Live DHOL along with DJ KIRAN Head to the wildest saturday night party, where we take u to fly high,drink ,dance and masti. DJ KIRAN ( All way from Mumbai) Dj Electro Fusion
Sat, 7 Nov 2015
8:00 PM
F- Bar
Pre Diwali Bash Feat. DJ Vipul Khurana Light up the dance floor with some mean beats by Delhi born DJ Vipul Khurana at the Pre Diwali Bash at Sanctum.
Shopping
The Midnight Flea Market @UBCITY The Collection @ UB City brings to you an experience like no other as we celebrate Diwali with pomp and gaiety against a backdrop of luxury. In the spirit of creating a unique spin on The Diwali Shopping Extravaganza, shoppers will be delighted by an array of offers, sales and culinary experiences while being privy to live entertainment that will take place on all three nights. Performances by Raghu Dixit, the Stem Dance Company and Soular Flare (Indo-western Fusion Music) will add to creating a shopping experience like never before.
Fri, 6 Nov 2015 Till 08 Nov.
8:00 PM onwards
UB City Mall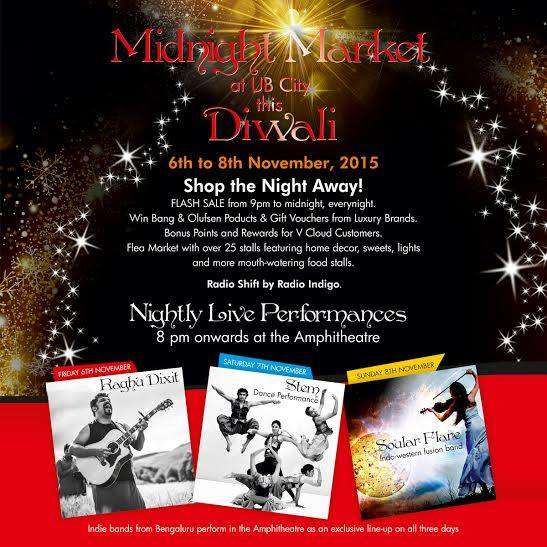 Roopkatha Diwali Exhibition Lets celebrate the festival of lights. We continue to exhibit our collection that showcases handlooms, silks, cotton created by our magical weavers. Each Saree tells you a story of art. The Reds, The Blues, The Yellows and The Whites paints a beautiful picture that makes the Indian Saree eternal.
Sat, 7 Nov 2015 Till 08 Nov. 12:30 PM
Inorbit Mall

Lamps of Celebration  A celebration of "All things Indian & Beautiful" leading in to Diwali, Lamps of Celebration – Eka's Annual Diwali Showcase – features an extensive collection of traditional and contemporary lamps in a wide range of mediums – brass, stainless steel and terracotta – all works of art designed to add splendour to your festival celebrations. For you, we have a fabulous new range of ethnic designer garments for work and party and over 8 brands of jewellery from leading designers.
Thu, 5 Nov 2015 Till 15 Nov.
11:00 AM
Eka
Kamalini by Crafts council presents Lights and Dolls KAMALINI will display a variety of handcrafted dolls and toys and lamps. Painted woodware dolls from Kinhal , Northern Karnataka ranging from gods and goddesses, folk deities, decorated cows, bulls and horses, women engaged in rural activities and toys like "kiskal gombe" and "ambekal ganesha". Raja Rani dolls from red sanders wood and vegetable dyed dasavatara dolls from Andhra Pradesh will also be featured. For Deepawali a variety of lamps including "Deepa Laxmi" lamps and decorated terracotta lamps will be on sale.
Thu, 5 Nov 2015 Till 12 Nov.
11:00 AM
Crafts Council Of Karnataka
Spiritual
Sri Sri Kalika Pooja And Deepavali Utsav Nischinth Social Welfare Trust will be celebrating Sree Sree Maa Kali Pooja and on this auspicious occasion we invite your Graceful presence to pay tribute to the Mother of Maha Shakti.
Tue, 10 Nov 2015 Till 11 Nov
7:00 PM
Samudhaya Bhavan, Yelahanka New Town
Shyama Pooja 2015 Kadugodi Bengali Committee  is arranging their 7th Annual celebration of Sri Sri Shyama Puja on 10th November at Kadugodi. Welcome all to be part of this event which marks yet another anniversary of spirit, Friendship and team work.
Tue, 10 Nov 2015
7:30 PM
Kadugodi Colony
Food
Diwali Brunch at the Taj West End with DJ Hussain
Sun, 8 Nov 2015
1:00 PM
The Taj West End
Diwali Mashup Brunch First ever diwali brunch at BLIMEY ft. the master HARSH BHUTANI (delhi) and our very own bollywood King Vipul Khurana, opening set by dj Nayan