The Stage is set and it's ShowTime! Theatre is the original 3D Entertainment form that has been around for years. We at EventsHigh along with Bangalore theatergoers await drama that unfolds on stage, rather than in real life.
The Tortilla Entertainment Company (A Bangalore based entertainment production House) proudly presents a short format theatre festival where the audience will get to witness around 7-8 performances per night in a particular genre. All the performances will be specially chosen and staged and each night will have a new set of plays!
The performances are brand new, never been seen before in the city and only around 15 minutes long! The audience can look forward to mini adaptations of the works of Indian authors and a lot of new writing with physical and devised theatre thrown in to mix things up! The cherry on the cake is the final weekend of family friendly shows- short musicals and plays for and by children!
40 short plays/ performances – 9 brand new shows! Here's the Schedule to have block your February weekends. Play it forward and  Book your Tickets Here!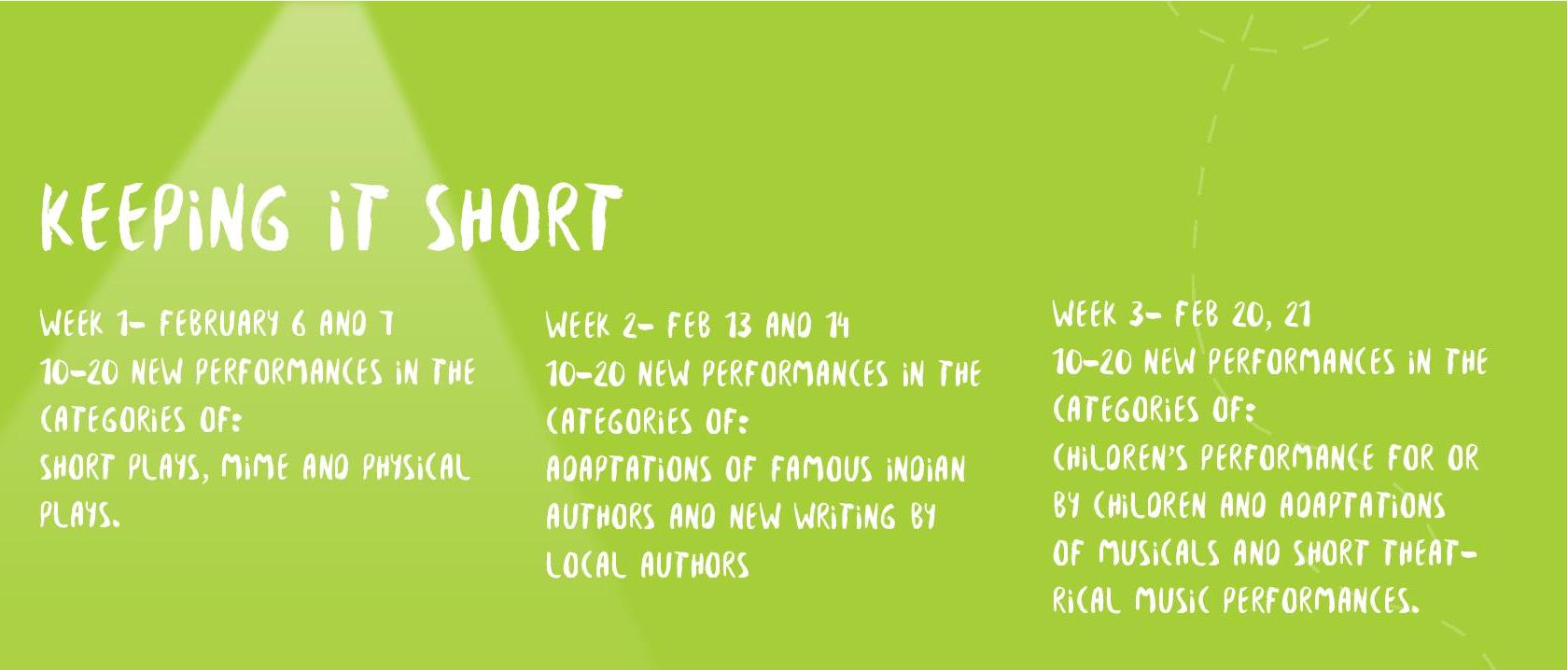 Comedy and Drama on 6th Feb – 7:30 pm
Fools & Sages- The Best Daddy
Jugaad Co – TBA
Linked Productions – Man with a Plan
What's in a Name? – Favours
Sunaina Mudaliar – Trapped In a Monologue
Katharsis – Agni Pariksha
Linked Productions – First Impressions
Indian Adaptations, Physical and Devised Theatre on  7th Feb – 6:30 pm
ArTH – Sankraman
XpressionZ – Karashe
Katharsis – The Broker
Emoticons – Mime – Intolerance
Cycle Gap – The Shadow
Tea Arts – Lost Audition
Katharsis- Spouses
New Writing (A) on 13th Feb – 7:30 pm
Fools & Sages – The Dream
Cycle Gap – Undelivered
First Drop – Picture Imperfect
Papermoon Company – The White House with the Flowers
Popcorn Productions – That's what she said!
Dollmaker – The Stakeout
Katharsis – Room for the Night
New writing (B) on 14th Feb – 6:30 pm
Indradhanush Theatre – Zero/Ten
Papermoon Company – The Flight of the Canaries
Cycle Gap – The Fake
XpressionZ – The Menu Card
Dhwani – 3AAA
Keli Palakkad – The Story of the Unborn
Mini Musicals on 20th Feb – 7:30 pm
Spice Box – Bittersweet
Swarathma – TBA
The Green Roomers – Poor Unfortunate
Katharsis – TBA
Jason Zacharaiah – TBA
Plays for Children and their Guests on 21st Feb – 6:30 pm
The Green Roomers – The Tale of Tale Town
Katharsis – The Blue Umbrella
ABCDarian – A Miser's Coat
Linked Productions – TBA
Nikita Sarkar + Syed Shahab Ali – Unbecoming
Papermoon Company – A Moonfull of Stories
Talebearers from Cilre – Talisman Tales, The Dream
Emoticons Together, to-get-her!
Handy Info:
At: Alliance Francaise de Bangalore, 108, Thimmaiah Road, Opposite UNI Building, Vasant Nagar
On: Every weekend from Sat, February 6 to Sun, February 21 2016